Reduce downtime up to 48%
CWorks helps "reactive" plants worldwide deploy preventive maintenance
that's proven to deliver up to 48% reduction in unplanned downtime.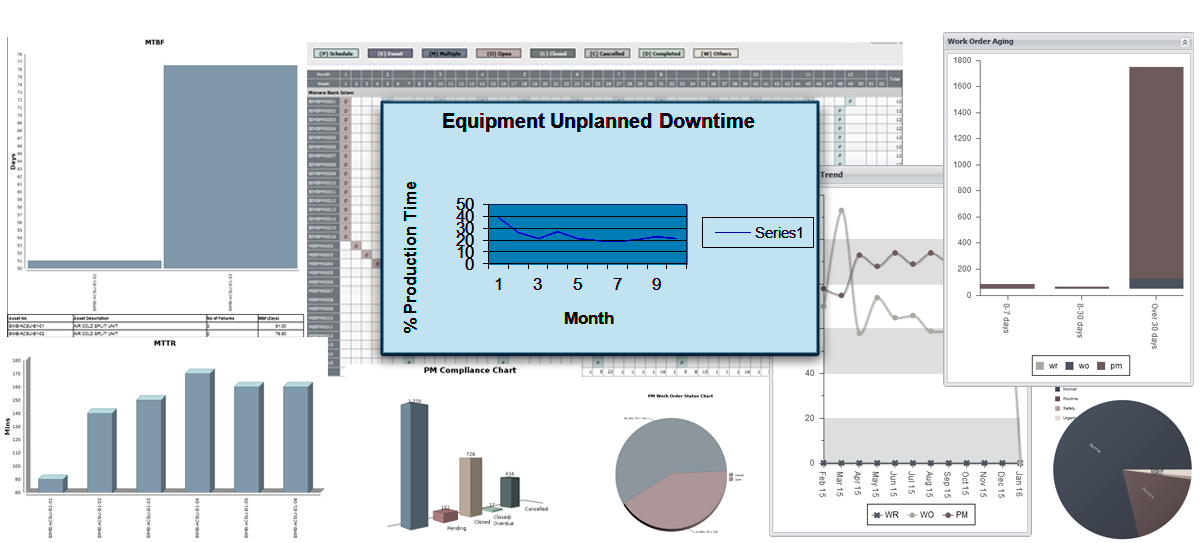 Proven, Practical, Preventive Maintenance Scheduler
For when it is completely, precisely and critically important that preventive maintenance is done on time
Time based scheduling
Schedule by fixed time periods, by date, by actual completion date, or day of week
Meter based scheduling
Schedule by incremental readings or high-low threshold readings

Eliminate schedule overlaps
Remove conflicts between different frequencies such as annual/monthly overlaps
Work order generation
Easily generate preventive maintenance work orders by date range
Checklist attachment
Create task checklist library and attach them to any preventive maintenance schedule
Spares management
Materials module for ensuring adequate preventive maintenance spares
Let us help before your preventive program is toast.
Preventive maintenance must be done punctually. Delayed and missed task makes your
preventive program worth less!
Optimize your preventive maintenance
Be a team
Get everyone involved. Make PM a team effort with unlimited user site licenses that give each team member, including storekeepers, customized access and individualized passwords.


Be effective
Remove ineffective tasks. Easily review and edit tasks
that have scheduling conflicts, inefficient scheduling, duplicate or missing information.



Be efficient
Individualized schedules. Equipment is either new, old, operational or dormant. Create individualized schedules for each piece of equipment using the extensive scheduling options available.
Be assured
Show task completion. Attach job photos, videos, and documents to work orders to show actual PM history. Use for future training, troubleshooting and to reduce redundant work.


"...a system for those who are without one or are unhappy with their current solution." - Maintenance Technology Magazine

Premium
USD 1695
CWorks PLUS
Site License. No user limit, no time limit.
Comprehensive work order management with advance search and sort
Many languages (English, Chinese, Spanish, French, German, Bulgarian, Romanian & Portuguese)
Extensive, no conflict, preventive maintenance scheduler with meter based scheduling
Record full physical asset life cycle histories
Comprehensive suite of reports including preventive maintenance compliance, MTBF and MTTR
Comes with one year support
Great addition to ISO9001 implementation
Basic
USD 0
CWorks Basic
Single user. No obligation, No time limit
Good for basic work order recording and fixed period preventive maintenance scheduling
* For web/cloud CMMS, training and customization, please contact us.
CWorks is implementable anywhere
"even on offshore oil rigs"
Globally proven
Users in more than
100 countries
Many languages
English, Spanish, Chinese, Bulgarian, Romanian, Farsi, French, Swedish, Portuguese, German, Polish, and Croatian
Globally accepted
Chosen by users in various industries including manufacturing, mining, oil & gas, education, healthcare and municipalities
Implementation made easy
Users have reported very low learning curve. Even with thousands of assets, implementation is as fast as 2 weeks
CWorks - The Preventive Maintenance Software Specialist