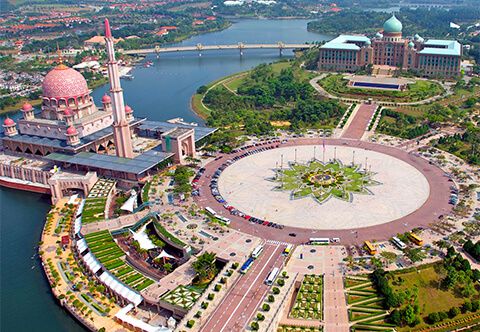 Putrajaya, officially the Federal Territory of Putrajaya, is a planned city and the federal administrative centre of Malaysia. The seat of government was shifted in 1999 from Kuala Lumpur to Putrajaya, because of overcrowding and congestion in the former.
Putrajaya used to be Prang Besar, and was founded in 1918 as Air Hitam by the British. Its land area of 800 acres (3.2 km2) expanded to 8,000 acres (32 km2), and it was merged with surrounding estates, including Estet Raja Alang, Estet Galloway and Estet Bukit Prang.
Planned as a garden city and intelligent city, 38% of the area is reserved for green spaces in which the natural landscape is enhanced. The plan incorporated a network of open spaces and wide boulevards.
Construction began in August 1995; it was Malaysia's biggest project and one of Southeast Asia's largest, with an estimated final cost of US$8.1 billion. The entire project was designed and constructed by Malaysian companies with only 10% of the materials imported.
The Public Works Department (JKR) of Putrajaya, Malaysia's administrative center manages all administrative federally owned facilities in Putrajaya. This includes government office buildings and civil servants housing. This makes JKR Putrajaya as the single government unit with one of the world's largest number of assets under management.
The maintenance of these federally owned facilities is managed by the Putrajaya Public Works Department but is outsourced to about 50 separate facilities maintenance contracting companies.
For Putrajaya Public Works Department, the challenge was not only to meet the high facility maintenance standards required of a country's administrative centre but also the complexity of ensuring outsourced third-party facility maintenance providers adheres strictly to the terms of contract.
Performance levels and response times needed to be assured but most times, performance failures are known only when there is a complaint from an irate tenant. Moving Putrajaya to a zero-complaint environment became the aim of Putrajaya Public Works Department.
To meet this aim, Putrajaya PWD tried a variety of systems over a number of years. Finally, Putrajaya PWD identified and selected CWorks computerized maintenance management system (CWorks CMMS) as the platform to monitor their maintenance providers' performance on their facility maintenance services.
Contract requirements were translated into performance measures that were then standardized throughout the facilities under Putrajaya PWD care. These measures were then incorporated into CWorks CMMS electronic reports which were then deployed on Putrajaya PWD's dedicated cloud.
To put it simply, if a blown light bulb contractually needs to be replaced in a week, the compliance can be tracked and monitored. With this, response times became standardized.
What is further unique in this CMMS installation is that each third-party maintenance provider is in competition with each other to provide higher performance. Most installations of these kinds would be on a single database, multi-tenant configuration. However, in Putrajaya, each provider is provided with their own database thus ensuring each provider's data is only accessible to the particular provider and Putrajaya PWD who can view data from all providers holistically through a cloud-based data warehouse. Putrajaya PWD can then data mine the data warehouse.
The CMMS installation was also deemed more environmentally friendly than other configurations. With real time, online reporting, the needs for paper based weekly reports are greatly reduced thus also greatly reducing paper usage. Time for preparing "MS PowerPoint slides" reports is also reduced. With centralized server hosting, the need for each provider to maintain dedicated servers was eliminated and server power consumption was more environmentally friendly.
Malaysia's fifth prime minister, Tun Abdullah once lamented that Malaysia suffers from having first world infrastructure with third world maintenance. In Putrajaya at least, with technology-based measurements and control, maintenance is now at 21st century levels.
Contract requirements were translated into performance measures that were then standardized throughout the facilities under Putrajaya PWD care Putrajaya Public Works Department - Putrajaya, Malaysia
Be a success story too.
Let's talk, call us at 716-213-0223