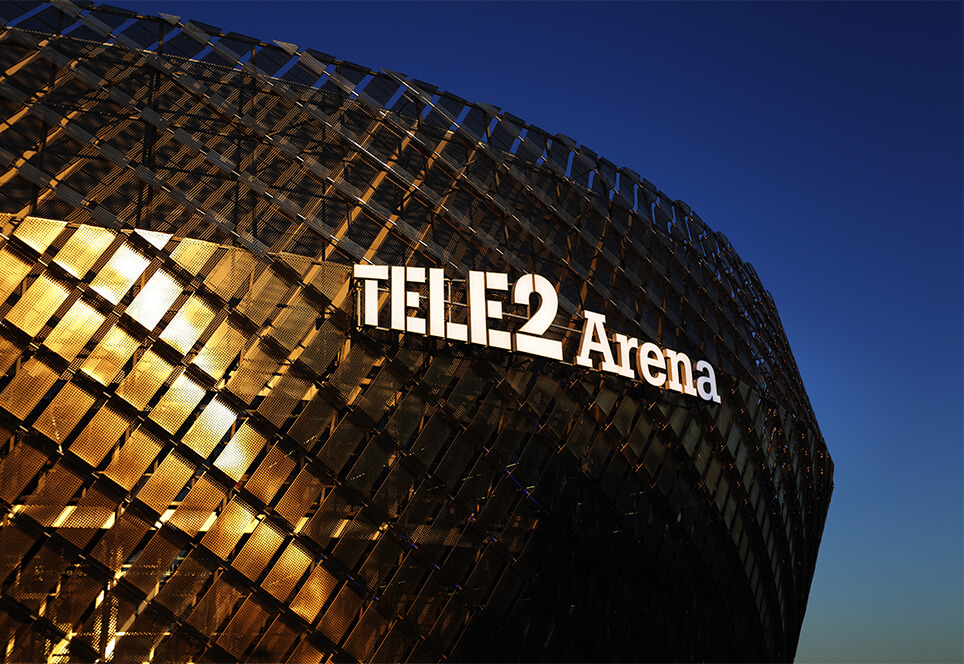 Stockholm's Tele2 Arena is one of the most modern multi arenas in the world. It has free, premium class Wi-Fi, 600 digital screens, Stadium Vision-technology, sliding roof, transparent facade and only six meters separating the first seat row from the sideline of the football field. The arena was inaugurated in August 24, 2013 to the music of Swedish artists Robyn, Lars Winnerbäck and Kent.
In June 2014, Tele2 Arena won "Venue of the Year" in the global The Stadium Business Awards. It took the top honors in competition with world arenas such as Madison Square Garden in New York and Wembley in London.
Tele2 Arena complies with the UEFA and FIFA regulations for international football. It brings you closer to the experience and hosts the home games of both Hammarby Fotboll and Djurgården Fotboll.
In spite of its young age, mega artists such as Avicii, The Rolling Stones, Justin Timberlake, Aerosmith and Gyllene Tider have already visited the arena.
Stockholm Globe Arena Real Estate AB (SGAF) is tasked with ensuring the continuous success of the Tele2Arena. One of their many responsibilities is to make sure the standard of maintenance service is high. To do that, SGA depends on a computerized maintenance management system from CWorks.
SGAF houses their CMMS in cloud hosted facilities to be free from IT manpower and infrastructure cost with minimal incremental cost. Using CWorks in a centralized help desk, they are able to lower manpower and optimize work delivery. Work dispatching and escalation are controlled resulting in improved response times and lower deduction impact.
Immediate work updates have lead to reduced backlog and faster delivery. Pleased with their success, SGAF has tagged CWorks as "solution with faster Return on Investment".
CWorks is and has been an important tool for us in the Stockholm Globe Arena Fastigheter AB to achieve excellence under the 5S orderliness in the arenas. SGAF goal is to systemize according to Asset Management, ISO 55000, Energy and Environmental Management ISO 14001 and ISO15001. Conny Hakansson, Certified European Maintenance Expert, SGAF
Be a success story too.
Let's talk, call us at 716-213-0223