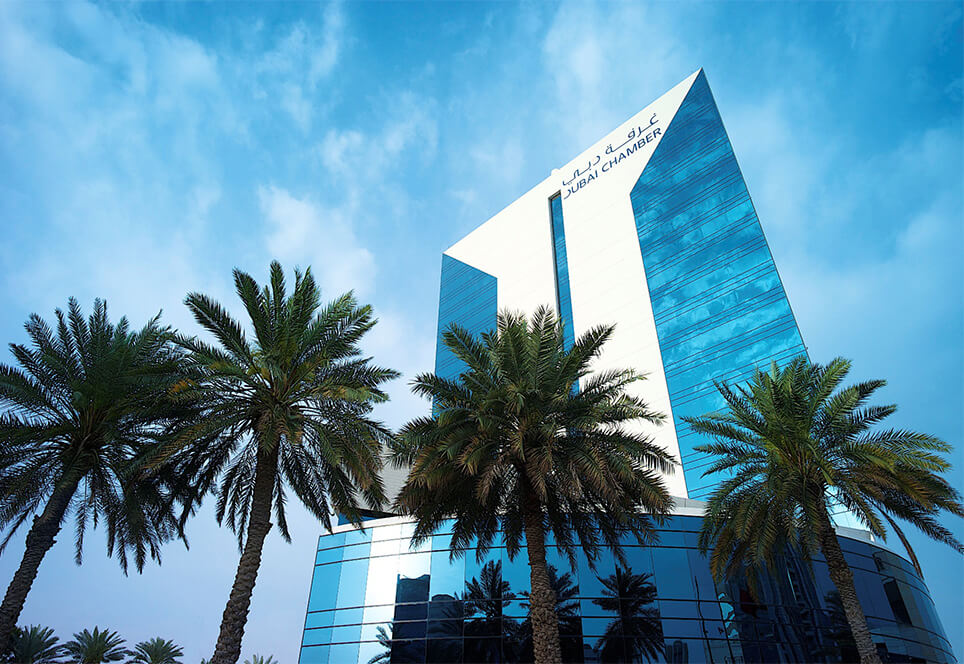 Dubai Chamber of Commerce and Industry, also referred to as the Chamber of Commerce Building, is a building in Dubai, United Arab Emirates (UAE). Located in eastern Dubai in Deira, the building is the headquarters of the Dubai Chamber of Commerce and Industry. It is located in the Rigga Al Buteen community, along Dubai Creek and is part of the old Dubai downtown.
At 91 metres (299 ft) in height, the Chamber of Commerce building was the seventh-tallest building in Dubai at the time of its construction in 1995 (after Dubai World Trade Centre, Deira Tower, Dubai Creek Tower, Arbift Tower, Al Reem Tower and Etisalat Tower 1). When seen from Bur Dubai, the building is located to the right of the National Bank of Dubai headquarters.
Dubai Chamber's head office is a shining example of how an existing, high energy and water consuming high-rise glass facade building can be transformed into a healthy, green skyscraper. The 18-story, 20,000m² commercial building serves more than 500 full time equivalent users including the Chamber's staff, tenants, students, contractors and visitors to the hundreds of events held in its various meeting venues throughout the year.
For facility maintenance, the Dubai Chamber of Commerce chose CWorks CMMS as its computerized maintenance management system. The CMMS was chosen for its "user friendliness, lightness (easy on systems), and vendor's service response and helping attitude" says Jagath L. Gunawardena, Manager Projects and Building Development.
With this CMMS, the building reported zero breakdowns and reduced expenditure on spare parts. Spares expense was down to only 0.0006% of the installed cost of USD12 million.
The building also reported that usage of consumables were manageable and controlled. Utility usage was also monitored. Between 1998 and 2008, water and energy consumption was reduced by 77% and 47% respectively saving $1.93 million through low and no cost initiatives.
The Dubai Chamber of Commerce building became the first LEED Existing Building Operations and Maintenance (EBOM) in the Arab world.
User friendliness, lightness (easy on systems), and vendor's service response and helping attitude Jagath L. Gunawardena, Manager Projects and Building Development,
Dubai Chamber of Commerce and Industry, Dubai, UAE
Be a success story too.
Let's talk, call us at 716-213-0223